Terms
The Terms profile list serves as a storehouse for all payment terms you accept from your various customers.



It ties directly to your Term drop-down list from your Sales Order, Sales Quote, and Ship Doc transaction forms: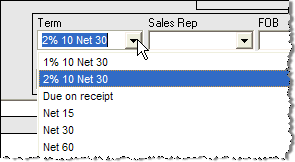 To add a new payment term, just choose Save & New from the tab's Save tool. Then enter a name, and choose a Term Type. By default all the term type are set to 'Accounts Receivable'. Changing the term type will notify the system that you want to be able to take payment in All Orders. The following are the different types of terms you can setup:
Accounts Receivable: No payment will be taken in All Orders. All payment will be received in Quickbooks after the order has shipped and been invoiced.

Full Payment On Order: Orders cannot be filled nor can linked transactions be created until full payment has been taken.

Full Payment On Shipping:Orders can be filled and quantities allocated but cannot be shipped until full payment is taken.

Partial Payment On Order, Full Payment On Shipping: A payment must be taken on the order for part of the total amount before it can be filled or creating linked transactions. Payment must be made in full before the items can be shipped.

Manual Payment Entry:There are no rules for how much of the order has to be paid for but the ability to collect payments will be enabled for orders with this term.
As with other profile list items, you can set Term is inactive if you want to keep the term, but don't wish for it to appear in the drop-down list when filling out your transaction form.