Manufacturers
The Manufacturers profile list allows you to quickly give supplemental information on the Items in your database by identifying their manufacturer.



This information is fed (in the form of a drop-down list) to the Inventory Item form, in the Supplementary Information area of the Purchasing tab: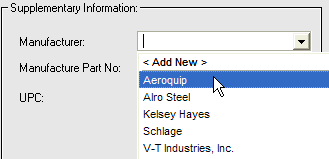 To add a new Manufacturer to this list, simply choose Save & New from the Manufacturers tab's Save button. If you wish to temporarily remove a manufacturer from the Inventory Item drop-down list without deleting it entirely, check the Manufacturer is inactive box.