Printing Labels
Most All Orders users will print labels, such as shipping labels, inventory labels or serial number labels. One way to think about labels is that they are a type of report with only one small detail section. On a normal run, one might print a label for every part number. It is possible that when you return to the printer to pick up the labels, you'll find that the printer ran out of toner while printing all the Items whose name begins with the letter "L". You replace the toner cartridge, but you don't want to print another copy of the labels for Item names beginning with letters "A" through "K." The solution is to add a Filter on the Item Name field that only includes the names you now need to print.
To work with Labels, simply open the Customize Reports app and click on the Labels tab (it's sitting right next to the Reports tab). The Labels list is now displayed. Just like the reports, you can use these labels as is or make copies and customize them.
All Orders 4 ships with specifications for 300 label types. To access the Label Setup dialog, just double-click the name of the label in the Label list: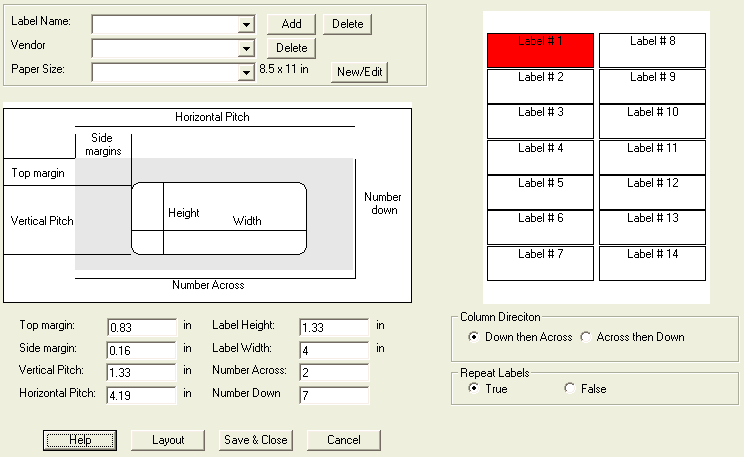 When the label is chosen, all the dimensions are displayed on the form, and a representation of how the labels will fit on the stock is displayed on the right-hand side of the form.
Click a few different label names and see the number of labels on the page change. The size of the individual labels will change accordingly. If you have the stock that matches the number displayed in the Label Name, then that is the one to use. If your particular label set isn't in the database of labels, then you'll need to enter their measurements manually.
If you have a leftover partial sheet of labels, that's no problem whatsoever. Simply click the box on the right-hand side of the format hat corresponds to the first available label on your sheet. Printing will start there.
In the same way that All Orders provides for user-designed reports, you can also specify and name your label. To create your own label specification (for example, if your particular label set isn't in the database of labels), just click the Add button. Enter all the dimension and then click the Layout button. The program then attempts to verify that the numbers you entered will work. If they do not, you will see a message box that explains which values need to change. Take note of how the virtual labels are presented on the right-hand side of the form. Keep changing the dimensions and clicking Layout until you have what you want. Then just choose a name for the Label Name. Finally, click Save & Close to save your new custom label.